Completed Projects
For over 60 years, Norco has been perfecting our hangar door and accessory manufacturing into the high-quality products that customers love. We provide a variety of different, unique hangar door systems to meet each client's requirements, along with some additional features that will benefit their company. When we design a door system, we ensure you'll be receiving a quality, efficient, and practical product. Every feature that comes with our hanger doors are specifically designed to simply provide you with the best equipment.
That is why, across the globe, companies have specifically come to us for their hangar door and accessory needs. From across the United States, to South America, to the Middle East, to Asia, and everywhere in between, we have had the opportunity to work with amazing companies and varying climates and regulations, providing them all with the best in hangar door manufacturing. Explore our list of completed projects below detailing all the amazing locations Norco had the opportunity to work in.
We also carry some additional accessories that provide lots of benefits to your hangar door. Our Door Wheelers are a great option for retrofitting an old door with a new opener system. These electrical hangar door wheelers can accommodate every application. Having these installed allows you to automatically open and close the doors all at a touch of a button. You can find more of our advanced technological equipment by visiting our accessories page.
Whether you're storing Aviation, Military, Industry, or Marine equipment and machinery, it will all be safe behind a Norco universal door system. If you're in need of state-of-the-art hangar door equipment and accessories, contact us today to schedule a consultation.
Projects
Northeastern United States
Norco has successfully installed a wide range of our hanger door systems throughout the northeastern United States (Rhode Island, Massachusetts, Connecticut, New Hampshire, Maine, New Jersey, New York, Vermont, Maryland, Pennsylvania, Delaware, and Virginia). As of 2023, Norco has completed 123 hangar door projects in this region.
Projects
Southeastern United States
Norco has a strong presence in the southeastern region of the United States with many hangar door installations completed over the years (Mississippi, Georgia, Florida, South Carolina, North Carolina, Kentucky, Alabama, Tennessee, West Virginia, Arkansas, and Louisiana). As of 2023, Norco has installed an impressive 179 hangar doors in this region.
Projects
Midwestern United States
With our headquarters based in Wisconsin, Norco is very familiar with the midwestern United States and we have completed many hanger door projects for a variety of industries (Wisconsin, Minnesota, South Dakota, North Dakota, Kansas, Michigan, Indiana, Illinois, Iowa, Missouri, Ohio, and Nebraska). As of 2023, 157 Norco hangar doors have been successfully installed within these midwestern states.
Projects
Northwestern United States
Norco hangar systems are perfect for the temperate northwestern United States (Oregon, Washington, Alaska, Idaho, Montana, Colorado, and Wyoming). As of 2023, Norco has completed 73 hangar door projects within these states.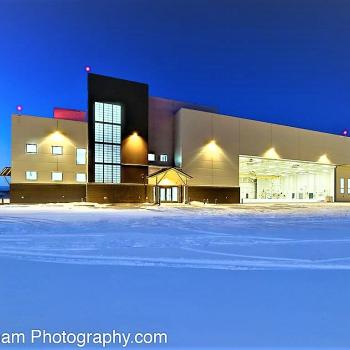 Elmendorf AFB, Anchorage, Alaska
Projects
Southwestern United States
The warmer southwestern United States has seen many a Norco hanger door installation successfully take place (Nevada, Arizona, Utah, New Mexico, Colorado, California, Oklahoma, and Texas). As of 2023, 157 Norco hangar door systems can be found throughout the southwest!
Projects
Outside of the United States
Norco has a worldwide presence with our hangar door systems and products successfully utilized by clients on a global scale. From Canada to Mexico, from Europe to Asia, Norco hangar systems and products can be found in virtually every corner of the world. Here are just a few countries and regions where Norco hangar products are in use.
Canada – 47 hangar door installations completed
Mexico/South America – 18 hangar door installations completed
Middle East – 15 hangar door installations completed
China – 6 hangar door installations completed
Asia - 6 hangar door installations completed
Africa – 7 hangar door installations completed
United Kingdom – 3 hangar door installations completed
Antarctica – 2 hangar door installations completed